NewsVOICES FOR PEACE: PCID PRESIDENT AMINA RASUL CHALLENGES UP GRADUATES TO SPEAK OUT FOR PEACE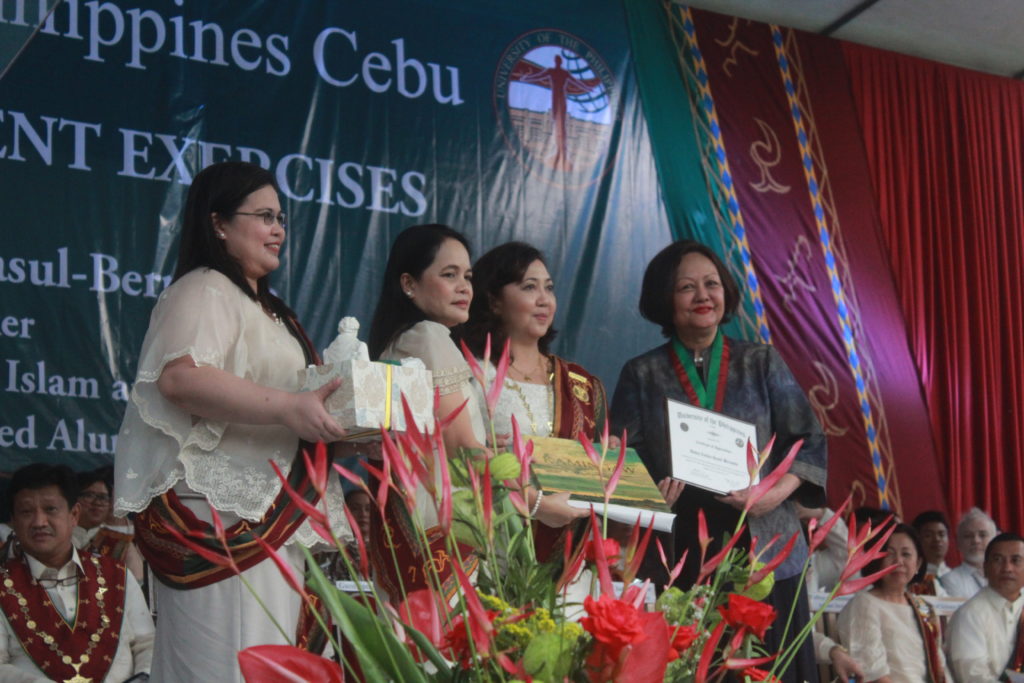 (Photo by: Leia Pelobello)
Dear graduates,
Congratulations!  You are now a member of a very distinguished group – the alumni of the best University of the country, the University of the Philippines.   A degree from UP unlocks doors of opportunities.  Just make sure you are at the right door!
Last year, when I received the UP Most Distinguished Alumna Award, I recalled Albert Schweitzer when he said: "At times, our own light goes out and is rekindled by a spark from another person. Each of us has cause to think with deep gratitude of those who have lighted the flame within us."  UP fed the flame in me –from the professors who mentored, and classmates who welcomed a promdi from Sulu, sharing notes and books.  I am sure you have also felt the spark.  To all of you, may you pass on that spark to others and light the world.
You are indeed fortunate to be one of the Iskolar ng Bayan.
My brothers and sisters and I are all UP alumni. For our mother,former Senator Santanina Tillah Rasul and our father, the late Ambassador Abraham Rasul,UP was the only center of academic excellence that would also mold us into independent young men and women, ready to serve our country and community.
Service to our country and community was the key message of our parents: to get the best possible education not just so we could be rich or powerful, but to serve. Nelson Mandela once said,   "Education is the most powerful weapon which you can use to change the world." Our parents believed that as well and sent us to UP Nating Mahal to hone our minds to be that weapon, open our minds to our roles in society and obligations to our people.
A UP education gave us promdis the confidence we needed to face a world that could be unkind to those who are different, what we now call "the other". UP students come from all walks of life, from all communities.  Thus,  a probinsiyana – a Moro at that – fit in very well in  UP, which celebrated diversity and encouraged "promdis" to come.  It did not matter if you were Moro or Cebuano,  Igorot or Tagalog – we all felt part of the real elite, the intellectual elite – the brightest of the bright.
However, Martin Luther King said: "We must remember that intelligence is not enough. Intelligence plus character–that is the goal of true education. The complete education gives one not only power of concentration, but worthy objectives upon which to concentrate. The broad education will, therefore, transmit to one not only the accumulated knowledge of the race but also the accumulated experience of social living."
I think this best describes a UP education:  that we do not merely strive to excel in our chosen fields but that we develop a strong desire to change our communities for the better. This is what the Iskolar ng Bayangains when she or he joins our community.
UP woke us up to the injustices committed by an abusive government against its citizens, particularly the marginalized poor, the Moro and indigenous peoples.  For me, it started during my freshman year with the Diliman Commune – a brave show of defiance against a government that we believed to be oppressive and militarizing. We UP students, joined by our professors barricaded the campus to prevent the police and military from entering and violating the autonomy of the University.
Later, I would join discussion groups or "DGs" organized by "activists". Our education took place as much outdoors as it did inside the classroom. The campus grounds were dotted with small groups of students discussing the failures of government, the oppression of the masses, the impending military actions to quell insurgency by the Communists and by the so-called Moro separatists. How could we be a democratic nation and yet oppress our own people?  While the leaders of the activists escaped to the hills after Martial Law, most of us chose to remain and work from within. I have always believed – as my parents did – that real change can only come from within.
The Holy Quran states "Indeed, Allah will not change the condition of a people until they change what is in themselves." Surah 13:11 God helps those who help themselves, right?
Nothing will change if imposed from outside, whether by the State or by armed liberation fronts, if the people themselves do not willingly change their own conditions.
Which brings me to the subject of my speech today: my advice for the new graduates of UP Cebu.
My young friends, you are all contemplating your future after graduation.  Are you looking for a career with government or with the private sector? If you choose the private sector, realize that the job market, here or abroad, will be influenced by the global flow if investments, which make business and industry grow.  Is the Philippines considered a good investment?  Or is it high risk?  Are our government's policies welcomed by business and industry?  Or are potential investors turned off?
Dear graduates, I strongly suggest that you consider joining the public sector and help our leaders develop and implement effective policies and programs that will unleash our country's potentials – talent, rich natural resources, a young and growing population – and not bring us to the brink of renewed armed conflict, whether with Moro groups or the CPP-NPA-NDF.
Will more military action against insurgents or liberation fronts be good for business and investments? I think not. Consider Mindanao, for instance, where both Moro and Communist armed groups have fought government since Martial Law was imposed by former President Marcos in September, 1972.
Mindanao has untapped natural resources, rich agricultural lands, and historically connected with ASEAN major economies particularly Brunei, Indonesia and Malaysia thru the Sultanate of Sulu. During the term of former President Fidel V. Ramos, after the signing of the 1996 Peace Agreement by government and the MNLF, the concept of BIMP-EAGA became a reality with Mindanao as the Philippine hub.  Peace paved the way for investors in Mindanao.
ASEAN integration has opened up the national borders of member-nations for freer movement of people, goods and services to create a single regional market to fully utilize the trends of business expansions to the region. The region's potential market – 0ver 600 million people – is also considered larger compared to Europe and the United States.
If ASEAN's economy were integrated today,it would be the seventh largest economy in the world.With the shift in the pattern of world trade and investments to Asian countries, Mindanao can become a major destination in Southeast Asia for business, particularly in banking, transport, storage and logistics, agriculture, halal industries, oil and gas.  Particularly today, with the election of the first President from Mindanao.The political will of the Duterte administration to establish a strong foundation for peace and to develop Mindanao is key.
Clearly, all of you should consider Mindanao.  Besides, Cebuano is the lingua franca of Mindanao.
However, there are two Mindanaos: developed Mindanao (the Christian dominated cities and provinces) and the "other Mindanao" (generally the conflict-affected and depressed communities of the Bangsamoroand the Indigenous Peoples).
The peace processes – with the MILF, the MNLF and the CPP-NDF – were all designed to address the dismal conditions of this "other Mindanao", which held back the growth of developed Mindanao.  Autonomy was the political solution agreed on by government and the Muslim liberation fronts, to end the wars for independence.
When there is peace, investments flow, businesses grow and development improves the lives of citizens.   This is why peace processes are crucial and require our support, your support. When there is war, no one wins. When violent extremism visits great havoc on our communities, women and children are the major casualties.
When I was your age, one of the most popular anti-war songs of all time was simply entitled "War".  It goes:
War, what is it good for? Absolutely nothing!
War, It ain't nothing but a heart-breaker
War, Friend only to the undertaker.
When hundreds of thousands of ordinary citizens become refugees and lose their homes, their hopes and dreams, it does not matter to them if government declares a military victory.  It only matters that they have lost everything they worked so hard for, that their dream has become a nightmare.
Unfortunately, there are Muslim communities in ASEAN such as Mindanao, Philippines and Southern Thailand that have been in conflict with the state over issues of land, human rights or sovereignty.  The Philippines, for instance, has had the longest running armed conflict between ethnic Muslims and the state over these issues.  However, faith has never been the reason for this conflict, until the rise of Al Qaeda and its horrendous terrorist attack against the United States on September 11, 2001.   It is so unfair that Islam, a religion of peace for 1.6 billion adherents, or 23 percent of the global population, has become linked with terrorism because of the acts of a few.
It has been over 16 years since 9/11 and Muslims are still grappling with the aftershocks. In conflict-affected minority Muslim areas, internal conflicts with central government have become complicated by the war on terror. The radicalization of Muslim groups, the expansion of an extremist religious interpretation of Islam (by ISIS, Boko Haram, Jemaah Islamiyah and other terrorist organizations) has become a very real threat to all, including us Muslims.  If we do nothing, the threat posed by these violent extremist groups will jeopardize the positive economic trends experienced by ASEAN.
I am sure that you have all been following the crisis in Marawi, which led to President Duterte declaring Martial Law.  You must be wondering how ISIS' extremist ideology has reached the shores of the Philippines, a country that prides itself as the Pearl of the Orient Seas and friendly people whose tourism slogan proclaims "It's more fun in the Philippines".  How did we get to this point?  Where did we go wrong?  More important, what does this have to do with you?
For over 250,000 Marawi residents, even if the extremist Maute group is decimated, nothing will ever be the same. I fear that violent extremism will take root in a community that has been torn apart for something they were not responsible for.  Unless we all help to make sure that peace, not war, prevails.  We need you, dear graduates, to lend a hand and help our Maranao brothers and sisters and others like them protect their hopes and dreams for a better future.
Mark Zuckerberg, the creator of Facebook, spoke about finding your purpose in life during his commencement speech at Harvard this year.  He spoke to millenials, to you, and how your identity is no longer defined by nationality, religion or ethnicity but as "citizen of the world". This means making room for in your world for everyone, not jut people like you.  It means opening your hearts and minds to those who are not like you, to "the other" – like our Moro brothers and sisters.
Zuckerberg said: "We can all make time to give someone a hand. Let's give everyone the freedom to pursue their purpose — not only because it's the right thing to do, but because when more people can turn their dreams into something great, we're all better for it.  Purpose doesn't only come from work. … we can create a sense of purpose for everyone  by building community. And when our generation says "everyone", we mean everyone in the world."
But there are those who would divide us with their highly emotional, politicized, negative rhetoric. They are turning to a blame-game, often without factual basis.They use alternative facts, a ridiculous definition of the word "lie".  Never in my life have I been inundated by so-called "fake facts". In social media, we are bombarded with hateful words intended to enflame. Islam has become an escape goat.If we do not do anything to counter these hatemongers, the peace process can become casualty.  The peace process must be protected, as it is key to unleashing the economic potentials of Mindanao and the realization of our nation's hope for prosperity.
It is in this context that we should address the issues of radicalization and how to counter violent extremism in Muslim communities. Experience teaches us that killing the terrorists will not end terrorism. A just peace within a democratic frameworkis the key to neutralizing the threat of violent extremism.Genuine democracy, which will provide more space for the marginalized (like the Bangsamoro, IPs and the poorest of the poor) will be able to temper any inclination toward extremist advocacies.  Gunfire cannot.
You may not realize this but Muslims in the conflict-affected areas are caught between a rock and a hard place. The rock is the state's military operations, which reduce communities to unproductive conflict zones, all in the name of securing the peace. Ignorance about the Muslim faith makes many leaders tend to perceive our religion itself as a threat. The hard place is the aggregation of extremist fundamentalist groups – like ISIS – who want to monopolize Islam. These groups accuse anyone talking of democracy, moderation, equality between men and women, of being un-Islamic or anti-Islam. It is important to note that these groups are a tiny minority of Muslims, that majority of Muslims want what all of you want – jobs, a peaceful community where families are safe, a good future.
This desire of majority of Muslims, here and abroad, supported the wave of democratization that swept the Muslim World, even as the West is embroiled in the war against violent extremism, against ISIS.
The last thing we need is for hatemongers to seize the stage and speak for all of us.  In a democracy, each of us has the right to speak out.  In fact, it is the duty of each citizen to speak out.  We cannot be afraid to refute the obnoxious statements of trolls who play with people's fears, appealing to their baser instincts. We cannot be a "silenced majority".
My dear young friends, as you consider what the future holds in store for you, do consider becoming involved in the public sector and policy work. The decisions the government makes will profoundly affect you and everyone you love. Policies matter enormously in our lives and should not be made solely by a handful of people who are supposed to represent you.  What we need is for you, the future leaders of public and private sectors, to participate and make a difference.
Steve Jobs, the creator of Apple Computer and Pixar, delivered one of the most inspirational commencement speeches ever.  He said, "Don't be trapped by dogma — which is living with the results of other people's thinking. Don't let the noise of others' opinions drown out your own inner voice. And most important, have the courage to follow your heart and intuition. They somehow already know what you truly want to become. Everything else is secondary."
My dear graduates, as the flag of war are is again being waved in some of our communities in Mindanao, speak for peace. Speak for those who cannot be heard.  Make a difference and speak your mind. Do not be one of the "silenced majority".  And remember, War, what is it good for? Absolutely nothing.
Whereas peace is its own reward.